Last year, denim took the back seat, as people wanted softer pants like sweatpants, leggings, and knit pants. As denim is back this year, we're taking the opportunity to get you up to date on the jeans styles that are emerging in the fashion scene.
From slim boot-cut jeans to the loose and distressed pairs, then going back to the old-school baggy jeans, these styles all feel like a breath of fresh air. Let us talk about new denim trends that are stealing the spotlight this year.
Straight Leg Jeans
Skinny jeans won't go out of style right away, but certainly, the details will. Now ladies prefer slim-straight denim. Think of it as a meshed version of the two fits. Then style it as you would with classic skinny jeans.
How do you make sure you got the right straight cut fit?  Well, we have listed down a few pointers for you.
Check the Waist
Straight-leg jeans should sit nearer to your waist than your hips. This is to make sure that it fits perfectly and that it won't drop down. Just because the legs are looser doesn't mean every other part needs to be.
Try seating on them
It is worth noting if you can grab a handful of fabric at your rear. If you're holding a handful, then that means it is too big. If you can, try to lift your legs, and then try a few squats. Do the jeans feel like they're going to rip? That means they're too tight.
Pinch your Thighs
It is called straight-cut jeans because there should be a fair amount of room all around the leg. What you need to do is to stand up and pinch the fabric around your thigh between your thumb and forefinger. You should be grabbing around an inch of fabric.
Take note of Your Calves
Straight-leg jeans narrow down into the calf. It starts either from the thigh or below the knee. The calves should have more room than the thighs as the jeans are cut straight down.
Just the Right Length
Length is a matter of taste. But take note that if they're too long for you, they can slip over your shoes, which is how you get those awful frayed ends at the heel.
Baggy Jeans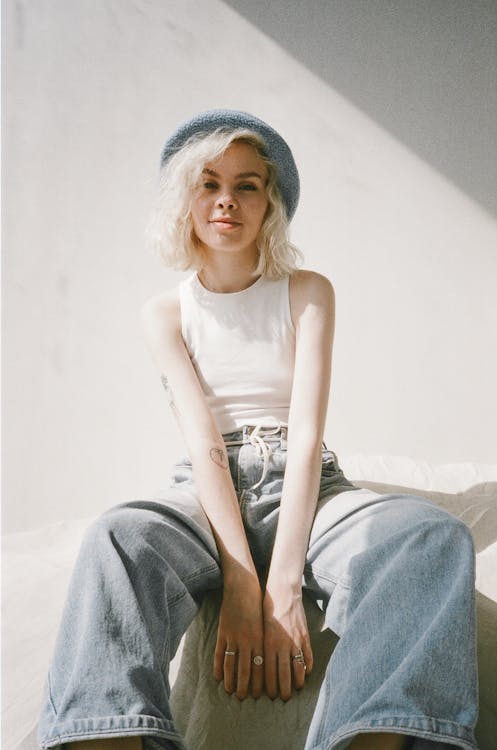 Last year, loose-fitting styles, not just denim, emerged as a top priority for consumers. There has been a steady rise in demand for baggy jeans and oversized jeans compared to last year. Our current cultural climate has shown that consumers crave comfort, safety, and security.
Slouchy, oversized denim has become the perfect silhouette for our socially distanced lives. We think that the pandemic has taught us all that comfort is the most important when considering buying a new pair of jeans.
To embrace this new, relaxed take, we have a few suggestions. It is essential to know what shoes you're going to be wearing. If you are considering flats, then make sure to look for baggy jeans with shorter inseams. This helps balance out the broader cut with a short hem.
Distressed Jeans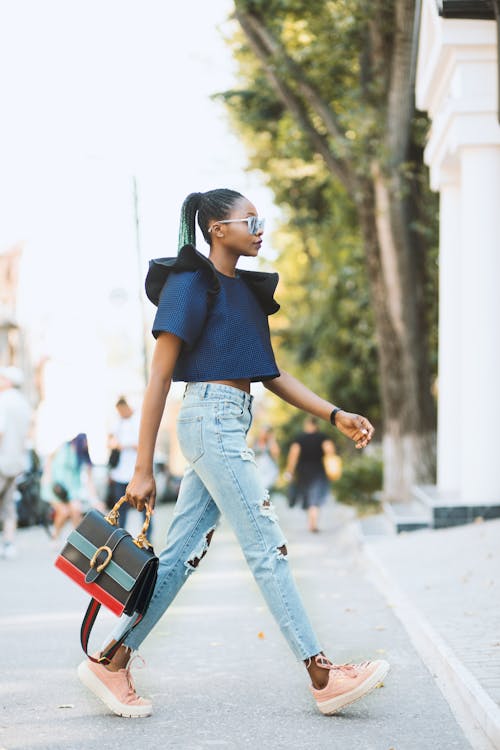 Distressed jeans can be worn with absolutely anything. It would be advisable to start from cool tops and blouses to leather jackets and tailored coats. This bottom has a casual look that makes you feel good and comfortable. However, it is inappropriate to wear ripped and distressed denim during work hours at the office, on formal occasions, or in big companies.
How to Dress Up in Distressed Jeans
Use a blazer
To balance out the informal look of distressed jeans, it will be a good idea to add a sleek blazer. Wearing a nice pair of heels will complete the professional look.
Putting on a hat that is the same color as your shoe
You cannot go wrong with a black fedora, long-sleeve top, distressed jeans, and pointed-toe boots.
A Feminine Look
Grab your favorite floral statement scarf, add a light pink tee, complementing jewelry, and fancy earrings. Then top it off with your favorite sunglasses.
Put on a cardigan
A light grey cardigan looks fantastic when paired together with a white top. Add a pair of cool dark blue distressed and white sneakers.
Make it simple
Sometimes it's best to keep things simple and sweet. Wear a floral long-sleeve top with distressed jeans and a chic handbag.
Boot Cut Jeans
Like it or not, we see a comeback of bootcut jeans as well. Because of its slightly tapered thigh area, boot-cut jeans are tight around the hips and thighs. This gives it a fitted and sexy appearance. It then widens from the knee to the hem, balancing out your shoulders.
Let us give you a few ideas on how to wear your bootcut jeans.
Bootcut Jeans With Boots
Some ladies keep things trendy but original. You can go bold with a camouflage print bomber jacket and pair it with dark grey ankle-length bootcut jeans. Then add on block-heeled gold ankle boots. That's eye-catching. You can never go wrong with any boot style, whether from sock-style boots to cowboy boots.
Bootcut Jeans With Ankle Boots
Here's another excellent outfit idea you can try out. Go for a white shirt layered under a black pullover, complete with a black coat over your cropped pants. Then, finish your outfit with a pair of black leather ankle boots. The goal is to make you look and feel good at the same time. Go for a pair with a shorter inseam if you are on the small size, or else they will be too long for your legs. In this case, you may need to cuff them up.
Bootcut Jeans and Combat Boots
Do you like edgy and grunge styles? Then we recommend trying on a black leather biker jacket with a grey sweater tucked in bootcut jeans with frayed hem, complete with lace-up black leather combat boots.
Bootcut Jeans And Heeled Sandals
Make a lovely casual look for the weekend. Wear a pair of wash-blue bootcut jeans and your silk blush-white blouse half-tucked. Then finish the look by adding heeled sandals and aviator sunglasses.
We like bootcut jeans with high-heeled boots as they give off a classy look. Make sure your jeans meet your boots below your ankles. If you're going to wear dark-colored shoes, the color of your jeans should be light and vice versa.
Conclusion
Were you able to pick up a trending jeans style you want to avail yourself of? Just so you know, you can always visit FASHIONLINE as it is one of the well-known suppliers of jeans for women in the market. It is an innovative apparel manufacturer that offers low-cost, high-quality products worldwide with the most superior supply chain.