Florida
Florida police release bodycam video of officers beating Black man Le'Keian Woods during arrest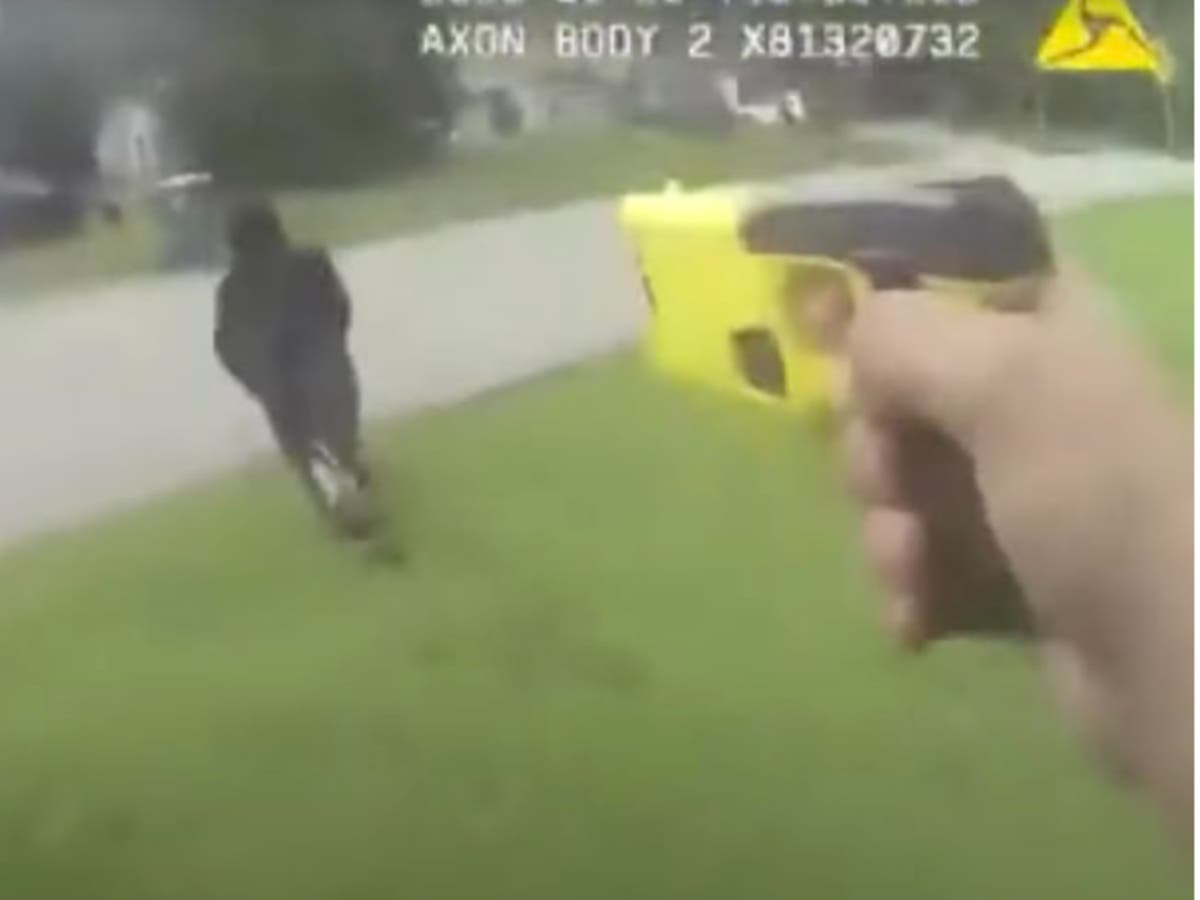 A Florida sheriff's office has released a video of the violent arrest of Le'Keian Woods, whose beating at the hands of his arresting officers prompted outrage on social media.
A bystander recorded the arrest on the day of the incident. That video circulated online, and showed what appeared to be deputies striking Mr Woods and slamming his head into the pavement even after he'd been handcuffed.
The video quickly garnered interest as evidence of police brutality, generating blowback for the Jacksonville Sheriff's Office, with some commenters even accused Sheriff TK Waters of trying to cover-up the beatings.
Mr Waters released the bodycam footage on Monday in response to the outrage and said he believes it shows his deputies were justified in their use of force, according to the Associated Press.
In the footage — obtained by First Coast News — Jacksonville deputies pull over a Dodge Ram pickup near an apartment complex parking garage. The stop reportedly occurred after the driver of the pickup completed a drug sale at a gas station.
The deputies draw their guns on Mr Woods and two other men he was travelling with at the time. The two men surrendered without incident. Mr Woods appears to dart from the passenger seat of the truck cab toward the nearby apartment complex. A deputy, Hunter Sullivan, begins to chase, yelling for Mr Woods to drop or he'll shoot him with a Taser.
Mr Sullivan eventually closes the distance and fires his Taser at Mr Woods, who drops to the ground. The deputy leaps onto Mr Woods and yells at him to put his hands behind his back.
Mr Sullivan wrote in his police report that he hit Mr Woods repeatedly, with strikes to his head and ribs, as well as an elbow to his face. He wrote that he feared Mr Woods was reaching for a gun in his waistband at the time of the stop.
Detective Josue Garriga said in his report that he slammed his knee into Mr Woods' head and shoulder while a third law enforcement officer punched him.
The beating continued for approximately two minutes before they managed to get Mr Woods handcuffed.
The sheriff told reporters during a press conference announcing the release of the video that responding deputies knew Mr Woods had previously been accused of murder and that he was on probation for armed robbery. They also knew he had alleged connections to firearms and drug trafficking when they were in pursuit, according to the sheriff.
"There was force used by arresting officers and yes, that force is ugly. But the reality is that all force, all violence is ugly," Mr Waters said. "But just because force is ugly does not mean it is unlawful or contrary to [agency] policy."
The sheriff said his deputies had not been suspended and that they remain on patrol "where they belong."
Mr Woods was ultimately charged with resisting arrest with violence, armed trafficking in cocaine and methamphetamine, and a number of other felonies.
The attorney representing Mr Woods, Harry Daniels, said he intended to petition the US Justice Department to investigate the beating.
He said the deputies had "no reason to engage Mr Woods, none." He insisted his client was not resisting arrest while trying to fight off the deputies, adding that "any man who is getting a beating is going to resist that beating or he is going to get killed."
"It's unfortunate that the sheriff believes the beating of an unarmed man is justified," Mr Daniels said. "It is obvious that he is complicit and an enabler of clear misconduct by his officers. It is not surprising that (the sheriff's office) didn't find any misconduct because they investigate themselves."
https://www.the-independent.com/news/world/americas/crime/lekeian-woods-florida-beating-bodycam-video-b2423286.html Florida police release bodycam video of officers beating Black man Le'Keian Woods during arrest